Shipping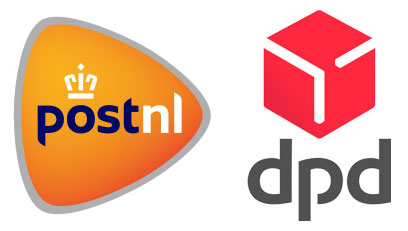 Ordering from Alpha Supps is fast, easy and secure.
All orders are shipped with PostNL or DPD.
Delivery at home, at work or at a PostNL point.
While ordering, you can choose the delivery time (NL & BE).
After shipment, a track&trace code immediately.
Delivery times
Ordered by 4pm on weekdays, same-day shipping.
| Country | Via | Working days | Shipping costs | Free from |
| --- | --- | --- | --- | --- |
| Netherlands | PostNL | 1 | € 6,95 | € 60,- |
| Belgium | PostNL | 1 | € 6,95 | € 60,- |
| Luxenburg | PostNL DPD | 1-2 | € 6,95 | € 60,- |
| France | DPD | 2-3 | € 9,95 | € 250,- |
| Italy | DPD | 3 | € 19,95 | € 250,- |
| Spain | DPD | 3 | € 19,95 | € 250,- |
| Germany | PostNL DPD | 3 | € 7,95 | € 100,- |
| Portugal | DPD | 4 | € 19,95 | € 250,- |
| Denmark | PostNL DPD | 2-3 | € 9,95 | € 250,- |
| Bulgaria | DPD | 5 | € 19,95 | € 250,- |
| Estonia | DPD | 4 | € 19,95 | € 250,- |
| Finland | DPD | 4 | € 19,95 | € 250,- |
| Greece | DPD | 7 | € 19,95 | € 250,- |
| Hungary | DPD | 3 | € 9,95 | € 250,- |
| Ireland | DPD | 3 | € 19,95 | € 250,- |
| Croatia | DPD | 5 | € 19,95 | € 250,- |
| Latvia | DPD | 4 | € 19,95 | € 250,- |
| Lithuania | DPD | 4 | € 19,95 | € 250,- |
| Austria | DPD | 2 | € 9,95 | € 250,- |
| Poland | DPD | 3 | € 9,95 | € 250,- |
| Romania | DPD | 4 | € 19,95 | € 250,- |
| Slovenia | DPD | 2-3 | € 19,95 | € 250,- |
| Slovakia | DPD | 3 | € 19,95 | € 250,- |
| Czech Republic | DPD | 3 | € 9,95 | € 250,- |
| Sweden | DPD | 3 | € 19,95 | € 250,- |