Thermo Burn is an advanced thermogenic fat burner designed to promote an anabolic environment, stimulate muscle growth and reduce fat. We take a three-pronged approach to boost your efforts to destroy body fat:
Appetite control: Theacrine, Cocoa Extract & Alpha GPC

Energy: Caffeine & Rhodiola Rosea

Thermogenesis: extract of cayenne pepper fruit and bioperine
These ingredients work together to control appetite, improve mood and increase metabolism.
A GEM CANNOT BE POLISHED WITHOUT FRICTION, NOR A MAN PERFECTED WITHOUT TRIALS. - ATTRIBUTED TO LUCIUS ANNAEUS SENECA, STOIC PHILOSOPHER.
It's time to polish your physique: remove body fat and reveal the muscularity you've earned through years of brutal and focused effort. Just as you have left no stone unturned in filling and balancing your frame with quality muscle, you will accept only the best nutritional tools when it comes to achieving the extraordinary leanness that shows off your physique at its best. That's exactly what you've found in Thermo Burn.
Thermo Burn takes a three-pronged approach to boost your efforts to absolutely and completely destroy body fat. We have created a trilogy of synergistic supplement combinations to control appetite and improve mood, enhance subjective feelings of "energy" and, of course, promote thermogenesis and thus the oxidation of body fat*:
 Appetite control: theacrine, cocoa extract and alpha-GPC.

 Energy boost: caffeine and Rhodiola Rosea. 

 Thermogenesis: extract of cayenne pepper fruit and bioperine.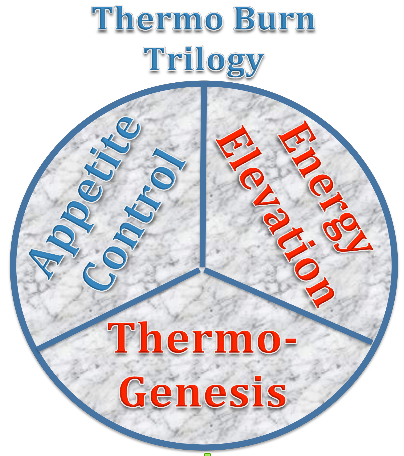 APPETITE CONTROL
The Appetite Control blend is aimed at improving mood, controlling your appetite and boosting your energy levels over the long term of your fat loss diet.
Thermo Burn contains what is perhaps the "cleanest" over-the-counter "stimulant" of all: Theacrine (as 125 mg TeaCrine® per dose). Theacrine improves mood, focus, subjective feelings of energy and motivation to exercise, but reduces anxiety1. Even after months of daily use (300 mg), TeaCrine® does not lose its effectiveness or entangle you in a nasty habit2 [which often happens with caffeine3,4]. [On the other hand, co-administration of TeaCrine® with caffeine (see below) can prevent desensitisation5].

To work together with TeaCrine®, we also added 275 mg of Chocamine®, a cocoa extract standardised with mood-enhancing theobromine6-8. [Although Chocamine® owes its mood-altering effects to its methylxanthine content9, cocoa extract has additional health benefits stemming from its antioxidant and anti-inflammatory properties10-12]. Like theacrine, theobromine also blocks the adenosine receptor13,14 and Chocamine® can synergistically stimulate fat oxidation15 when combined with L-leucine [the essential amino acid you definitely should not skimp on when dieting16].

To further enhance your cognitive abilities, we have added 50 mg of Alpha-Glyceryl Phosphoryl Choline (Alpha GPC from AlphaSize®) in each serving. Alpha GPC provides a substrate for the synthesis of the neurotransmitter acetylcholine, improves memory and learning in animals and can treat a variety of cognitive disorders17. Although the acute effects of choline supplementation may not be obvious18,19, don't give up. Chronic supplementation (about 1 week) can improve cognition20 and even strength21 (neurologically). (Can you imagine becoming both "smarter" and stronger the longer you are on a diet?)
ENERGY INCREASE
Of course, we have added perhaps the world's most popular22,23 energy booster24 in the form of caffeine [anhydrous caffeine (100 mg) and dicaffeine malate (as Infinergy™; 34 mg]. Caffeine has a wide range of ergogenic effects3,25 and is both thermogenic26 and lipolytic27, making it a viable key ingredient for any fat loss regime.The small dose of theobromine in Chocamine® (see above) can also counteract the hypertensive (blood pressure-raising) effect of caffeine28,29 and synergise with caffeine to promote arousal9 .

Rhodiola Rosea is an emerging adaptogen with respected anti-fatigue and ergogenic actions30,31. Two daily doses of Thermo Burn deliver 130 mg of Rhodiola Rosea extract (≥3% Total Rosavins and ≥1% Salidroside), enough to significantly reduce mental fatigue and improve cognitive performance and sense of well-being when life's stresses seem overwhelming. Take it from some of the most cognitively stressed people in the world: doctors working night shifts32 and medical students taking exams33.
THERMOGENESE
To boost your metabolism in a way you may never have, we have added cayenne pepper (Capsicum Annum) fruit extract (as 50 mg Capsimax® per dose). The capsaicinoids in Capsimax® work through receptors in the brain to activate the sympathetic nervous system34. This increases metabolism via thermogenesis35,36 and may even promote the development of new brown fat cells, a form of energy-releasing adipose tissue found in humans37-41. Even the small amount of Capsimax™ (100 mg total) in the recommended two daily doses of Thermo Burn is sufficient to increase lipolysis both at rest and during exercise42.

When it comes to many dietary supplements, bioavailability (absorption) is the name of the game. For example, Thermo Burn contains 2.5 mg of Bioperine®, an extract of black pepper that contains 95+% piperine [which itself may even be thermogenic43,44]. By inhibiting the action of p-glycoprotein45 and preventing glucuronidation in the gut46, piperine reduces the intestinal barrier for many substances47 and makes them more fat-soluble (and thus able to cross lipid membranes). Indeed, piperine has a good record of increasing bioavailability of drugs and supplements45, including curcumin48, beta-carotene49, resveratrol50, iron51, selenium52 and CoQ1053.
Disclaimer: responses to alkaloid stimulants such as caffeine are variable. Rhodiola Rosea and piperine may interact with enzymes involved in drug metabolism.
*These statements have not been evaluated by the Food and Drug Administration. This product is not intended to diagnose, treat, cure or prevent any disease.
** See the full Thermo Burn documentary for quotes and references.